The Los Angeles music climate of the late sixties and seventies was characterized by the heavy sounds and sentiments that reflected the revolutionary attitudes of the generation. Bursting onto that scene was a new group whose sound not only epitomized the hard attitudes of the youth with its heavy drumming and bass lines, but also embraced more delicate aspirations through its intricate guitar and keyboard overlays.

Iron Butterfly was signed to ATCO records (a division of Atlantic Records) in the spring of 1967 and released their first album, aptly titled Heavy, the following winter. While the band was on the road with the likes of: The Doors, Jefferson Airplane, The Grateful Dead, Traffic, The Who, and Cream, their impressive debut stayed on Billboard's album charts for almost a year.
In July of 1968, Iron Butterfly released the monumental LP, In-A-Gadda-Da-Vida, featuring the 17:05 minute side-long track that shook the entire music industry with its phenomenal reception. 'Vida outsold every record in the history of recorded music within the first year of its release (over eight million copies sold) and therefore outgrew and outsold the standard of the music industry's "Gold Album" award. For this achievement, Iron Butterfly was subsequently awarded: The Industry's Very First "Platinum Album"! This historic award was created and presented by then-president of ATCO Records Ahmet Ertegun, who went on to become the current CEO of the WEA Group. Most recently, "Vida" received the Multi-Platinum award.
In-A-Gadda-Da-Vida, stayed on the charts for 140 weeks, with 81 weeks in the Top Ten. To date the album has sold in excess of 30 million copies and remains an undisputed classic in the archives of rock with DJ's and audiophiles worldwide.
Within a year of releasing In-A-Gadda-Da-Vida, Iron Butterfly had charted a third album, Ball, - which surpassed "Vida" (still in Billboard's Top 10) turning "Gold", and climbed to No. 1. Ball remained on the charts for 44 weeks, followed by two more album releases in 1970 - Live, and Metamorphosis, each charting respectably in the Top 20.
Iron Butterfly toured extensively, appearing throughout the U.S., Canada and Europe, where they appeared at London's world famous Royal Albert Hall. The band also appeared on stage with: Jimi Hendrix, Led Zeppelin, Frank Zappa, Chicago, Janis Joplin, Steppenwolf, Canned Heat, Three Dog Night, Quicksilver, Yes, Creedence Clearwater, Rush, The Turtles, Buffalo Springfield, Crosby Stills & Nash, & The Byrds, just to name a few!
In the 70's, two albums titled, Scorching Beauty and Sun of Steel were released on MCA.
Past television performances have included: The Steve Allen Show, The David Frost Show, The Red Skelton Comedy Hour, Playboy After Dark, The Dating Game, Somethin' Else, and numerous performances on American BandStand, with Dick Clark. The Band also was invited by Atlantic Records to perform on May 14, 1988 at Atlantic Records 40th Anniversary Concert "It's Only Rock'n Roll" at Madison Square Garden, in New York City which HBO taped, and televised, world-wide via satellite.
Iron Butterfly's music has been featured in movies like: Savage Seven, Manhunter, Texas Chainsaw Massacre 2, Night Mare On Elm Street, and Fatal Instinct,as well as the TV series Wonder Years, Hardcastle & McCormick, Roseanne, Home Improvement, The Simpsons, and Unsolved Mysteries. References to the band and their music are still frequently heard, in hit movies like Ford Fairlane, Sybling Rivalries, and several times on top TV shows: Cheers, Letterman, Dennis Miller Show, Howard Stern and numerous others. In November '95 Ron Bushy appeared on Phil Donahue, and Unsolved Mysteries. In 1996 the group appeared in: American Journal, America's Most Wanted, and People Magazine.
The Current Lineup of Iron Butterfly Includes

Ron Bushy, (drums)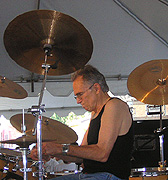 Writer; and legendary for his drum solo in In-A-Gadda-Da-Vida, with his primal drum patterns, that set the standard for generations of rock drummers. Ron is also highly skilled in the graphic arts and has created most of the logos and artwork as seen on the Iron Butterfly merchandise and advertising
Lee Dorman, (bass guitar - vocals)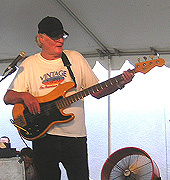 Producer, writer, arranger, including: Captain Beyond.
For over 30 years, bass player Lee Dorman has been the driving force of the legendary rock group Iron Butterfly. He discovered the rock groups Blues Image (of "Ride, Captain, Ride" fame) and Black Oak Arkansas and successfully engineered recording contracts for both bands on the ATCO label (a subsidiary of Atlantic Records). He also co-produced the first Black Oak album, called Black Oak Arkansas. After touring with Iron Butterfly for 7 years, he created the progressive rock band Captain Beyond. Known for being ahead of its time with its jazz-rock influences in multi-time signatures, the group today, still has a cult following throughout the world and even has three "unofficial" websites ... one of which is Japanese. Lee, who has had a major influence on bass players for the past 30 years, has also produced, written and arranged the music for a Harley Davidson promotional video. He is currently working on his autobiography, a cookbook, and involved with the VH1 production "Where Are They Now?" segment on Iron Butterfly, and co-producing Iron Butterfly's Spring 1997 European Tour Video, to be released in the near future.

Charlie Marinkovich, (lead guitar - vocals)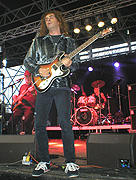 Charlie originally hailed from the Pacific Northwest long before there was a "Seattle Scene". He has played with many different bands including Randy Hansen and has continually been involved in numerous recording projects. In the 90's he relocated to the San Francisco, Bay Area and formed Apocalypso with Larry Carter (Romeo Void) and Bill Klein which through sheer musicianship caused quite a stir. Charlie's signature guitar style and tone combined with his powerful vocal abilities made him a natural choice for Iron Butterfly.

Martin Gerschwitz, (keyboards/violin/lead and back up vocals)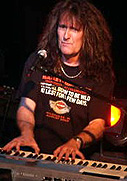 Martin Gerschwitz's formula for success is a fine blend of luck, a whole lot of struggle, and a strong belief that some day he'll be at the top. That day is just around the corner for Martin Gerschwitz, the classically trained German born keyboardmaster. At the age of 16 he already played with big german orchestras, of course all classical music! Then in 1968, his older brother (who is a very successful Cello - player) gave him a record to listen to ("Five Bridges Suite" by The NICE, Keith Emersons first band), and Martin discovered Rock'n'Roll. Within 3 weeks, he put his first band together ("THE AVENGERS").....
After several years playing on the german scene with german bands, backing up famous german singers and being among other things the keyboardplayer for PERCY SLEDGE ("When a man loves a woman") for a whole european tour, he finally in 1978 formed his own american-style Rockband "BREAKPOINT" (they recorded one album in 1981 called "First Serving") which toured very successfully all over the american Military Circuit in Europe. But that wasn't enough for Martin, he wanted to make it worldwide - so he gave up everything he had, sold his equipment very cheap, paid off his debts and went on his way to the USA! So here he was - in 1985 - in the United States - without money, a band or equipment..... For the first 2 months Martin worked for a messenger service to make some money to buy equipment again, and it didn't take long for him to put his aforementioned formula to work. After one audition TIM BOGERT (ex-Vanilla Fudge bass player) asked him to join his band, and by the end of the year Martin Gerschwitz added LOVERBOY and EDDIE VAN HALEN to the list of musicians which he's shared center stage with.
Over the next 10 years Martin performed at well over 2,500 live events worldwide, from solo appearances with orchestras in Germany to European Rockfestivals, from the Russian Rhythm and Blues Festival to the Singapore Blues Festival, from a concert tour of the Persian Gulf countries to the Iceland Rock Festival, Martin Gerschwitz toured the U.S. and the world with such acts as LITA FORD, MEAT LOAF, VANILLA FUDGE, WALTER TROUT BAND, just to name a few. He also recorded many CD's as a result of these tours. In 1996 he started his own project utilizing the classical knowledge he had, first with an (also classically trained) flute player who he recorded 3 beautiful Flute and Piano CD's with (DAN LEFLER and MARTIN GERSCHWITZ, Volume 1-3 all available through Martin's website www.allesklarmusic.com), then finally in 1998 he decided to do it all by himself, he basically went back to his roots.
As a result of that, Martin put out 2 more CD's, "Lazy Afternoon" (1999) and "Nobody knows me" (2000) - wonderful, relaxing all keyboard pieces of music with the exception of 2 vocal songs (one of them features Martin's good friend Tricia Freeman on "Summertime", the other one Martin on "Nobody knows me better than I do") - both are available through his website (look above) - a must have for every music fan!

In March of 1999, Martin got approached to join "Eric Burdon & The New Animals" as their permanent keyboard/violin player. As of May 1999, Martin has been touring with them all over the world (Europe, North America, Hongkong, Singapore, Australia, New Zealand, etc.), actually - the band is touring constantly all over the world with more than 100 shows per year! In the middle of all this the band with Martin made time to record 3 Live CD's, "Eric Burdon & The New Animals - Bootleg 2000" which was recorded at "Stephen Talkhouse" in Amagansett, NY - in 2002 "Eric Burdon & The New Animals - Live in Seattle" which was recorded at the "Experience Music Project" in Seattle, WA and in December of 2004 "Athens Traffic - Live" which was recorded in - you guessed it - Athens/Greece! In the summer of 2003 Martin recorded yet another CD of his own ("Martin Gerschwitz & friends") and shot a concert DVD of his own band in Frankfurt/Germany in November of 2004 ("Martin Gerschwitz & friends - Live")! Once again - everything aforementioned (CD's/DVD's) is available through Martin's website (www.allesklarmusic.com)!
As of December 2005, Martin is a proud member of "Iron Butterfly" - he'll be the keyboardplayer and he'll take over a couple of lead vocal parts as well - maybe at some point the violin will be part of the show again, too.....???

Iron Butterfly is now working on a new album, touring and performing live, their classic hits, including their new and exciting material, to old and new fans alike, of all age groups. The bands reception is more than warm, It's Hot! The fans are truly turned on to the Butterfly's new sound and material; not to mention the step back in time, with their past hits!

Rhino Records has recently re-mastered and re-released worldwide: Iron Butterfly's entire catalog on CD, along with Light & Heavy (a new compilation) CD. In November 1995 Rhino re-released a brand NEW DELUXE CD of the classic album, In-A-Gadda-Da-Vida, from newly discovered First-Generation master tapes, complete with bonus material and a lavish 36 page booklet containing many rare and unseen photos. Rhino went all out with this new CD, the cover is in 3-D and full motion, of the group live on stage with a huge Butterfly flapping its wings as it appears to fly right off the CD into your face! IT'S UNBELIEVABLE!

Rhino Records in November 1995 also joined forces with: Compton's New Media, Apple Computer, Jouissance Productions, and i-trax; to release a new CD-ROM entitled: "ROCK EXPEDITION: THE 1960'S". This new format has 10 different artists from the 60's, including Iron Butterfly performing In-A-Gadda-Da-Vida. The most amazing thing is you can actually play, "ROCK EXPEDITION: THE 1960'S" on your multimedia PC/WINDOWS or Macintosh computer, and watch vintage video clips, interviews, and interactive psychedelia as well as, on your Audio CD.

Rhino Home Video in January 1996, released the first, and only video of the group perfoming: Butterfly Bleu, Easy Rider, and In-A-Gadda-Da-Vida.

IRON BUTTERFLY...IS...ANCHORED BY AN ESTABLISHED STRONGHOLD IN THE MUSIC BUSINESS, AND REJUVENATED WITH A TRANSFUSION OF NEW BLOOD. THE NEW-IRONBUTTERFLY PROMISES ONCE AGAIN TO BE FRESH, NEW AND INNOVATIVE WITH HIT SONGS, AND SOUNDS FOR THE NEW MILLENIUM.